Title: Souls Unfractured
Series: Hades Hangmen #3
Author: Tillie Cole
Age group: New Adult
Genre: Dark Contemporary Romance
Release date: 11th August 2015
"For fractured souls are like magnets.
Drawn to collide into an impossible bliss…"
Labeled a 'Cursed' woman of Eve from birth, Maddie has endured nothing but pain and repression at the hands of The Order's most abusive elder, Moses. Now living with her sister in The Hang-men's secluded compound, finally, Maddie, is free. Free from the suffocating faith she no longer believes in. Free from endless years of physical and mental torment.
Just… free…
At age twenty-one, the timid and shy Maddie is content to live within the confines of her new home—safe from the outside world, safe from harm and, strangely, protected by the Hangmen's most volatile member; the heavily pierced and tattooed, Flame.
Flame.
The man who ceaselessly watches over her with his midnight dark and searing eyes. The man who protects her with a breath-taking intensity. And the man who stirs something deep within her numbed heart.
But when circumstances conspire for Flame to need HER help, Maddie bravely risks it all for the broken man who has captivated her fragile soul.
The Hangmen's most infamous member, Flame, is ruled by one thing—anger. Plagued by haunting demons from his past, an all-consuming rage, and isolated by an abhorrent hatred of being touched, Flame's days are filled with suffocating darkness, pierced only by a single ray of light—Maddie. The shy, beautiful woman he cannot purge from his thoughts. The woman he has an overwhelming need to possess…
… the only person who has ever been able to touch him.
Flame's mission in life is to protect Maddie, to keep her safe. Until a trigger from his troubled past sends him spiraling into madness, trapping him in the deepest recesses of his disturbed mind.
His Hangmen brothers fear that Flame is beyond saving.
His only hope of salvation: Maddie and her healing light.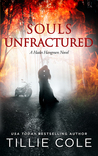 Souls Unfractured by Tillie Cole
My rating: 5 of 5 stars
I so wish there was an option to give a rating more than just five stars!!! With each release in the Hades Hangmen series, their stories get more intense and the story of Maddie & Flame was the most emotional so far.
Maddie is the last of the Cursed Women of Eve that was liberated from The Order when the Hangmen went to save Mae in It Ain't Me Babe. She was also the most broken of the women. Her torture at the hands of the men in the commune started much earlier for her and she coped by withdrawing completely from her sisters and everyone else.
Now living at the MC compound, she keeps isolated for fear of being touched and remains skittish around men for fear they would do the same to her as the elders from her faith. With the exception of one biker. Flame is the quiet brother of the MC and is also the scariest of the bunch. Always with his knives and inflicting cuts to his own body as he battles his own demons. I knew he was going to have an intense story from getting glimpses of him in the previous books. But his story turned out to be so much more than I expected and I broke my heart just as much as it broke Maddie's
Both Maddie and Flame were tortured and broken by those believing it was for their faith. This essentially molded them to be perfect for each other. Each understanding the inner struggle and hell they battled daily. They were able to break through to each other and offer a form of salvation. Their connection limited to just the two of them, Flame was able to offer Maddie the safety she so desired and Maddie was able to calm the fires that Flame dealt with everyday.
I have to say this book title was the perfect description for these characters and the salvation they ultimately find in each other.
Tillie Cole is a Northern girl through and through. She originates from a place called Teesside on that little but awesomely sunny (okay I exaggerate) Isle called Great Britain. She was brought up surrounded by her English rose mother — a farmer's daughter, her crazy Scottish father, a savage-ly sarcastic sister and a multitude of rescue animals and horses.
Website | Twitter | Facebook | Goodreads